Lead Embedded Software Engineer Ilmo Euro is a team player with a curious mind, an abundance of knowledge, and an answer to almost every question—usually served with a healthy dose of humor. He shares with us why he thinks NL Acoustics is the best place to work, and how he sees the company will develop.
"I would say I'm in the right place," smiles Ilmo Euro, NL Acoustics' Lead Embedded Software Engineer, who has a background in electronics engineering, information technology, and data processing. Employed at NL Acoustics for two years now, Euro heads up the embedded team responsible for developing all the software in the company's acoustic cameras. Rocking perhaps the office's coolest pair of 1980's-style eyeglasses, Euro has agreed to tell us what gives meaning to his work.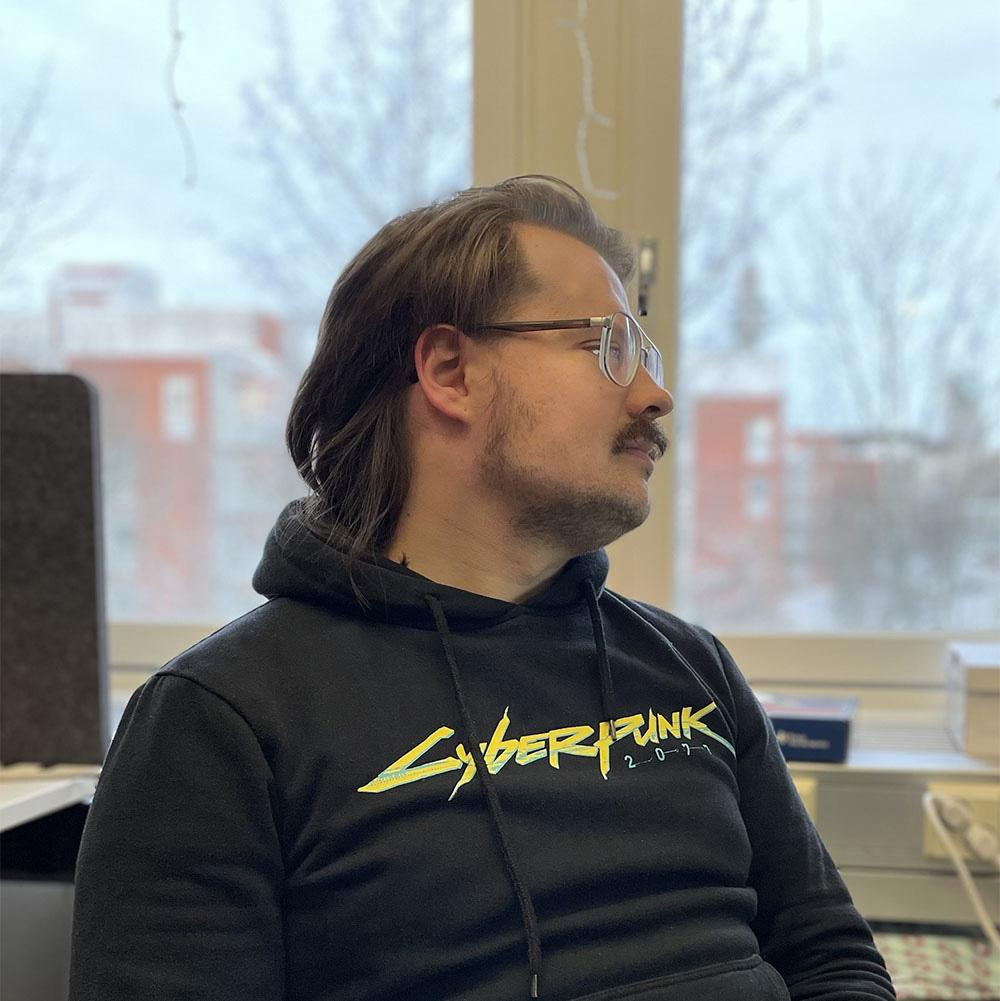 Designing Solutions that Improve the World
Before joining the NL Acoustics team, Euro designed software for Android-based smart locker systems. His work taught him useful skills, but something was missing: the chance to pursue solutions that would change the world for the better. So when an old university friend and later colleague invited Euro to consider filling a vacancy at NL Acoustics, he didn't hesitate to apply.
Euro sums up his thoughts on the best thing about working at NL Acoustics: "We design and manufacture useful devices that take humankind forward. Our cameras reveal things that previously were not visible, and prevent power outages and energy waste in various industries."
His position has allowed Euro to feed his interest in audio technology and utilize the skills he learned in the field. He has also gained in-depth knowledge not only of video cameras and what enables them, among other features, to take 50 images within a single second, but also of different writing systems throughout the world by building keyboards for Korean and Chinese, for example, and learned from designing components that other companies can use. This latter task has challenged Euro to step into the shoes of third parties and clients who don't share his expertise to see how they approach and understand different solutions—a key aspect when working at NL Acoustics.
Bigger and Better, Together
NL Acoustics is growing at a fast pace, and Euro expects this expansion and the accompanying new hires to bring about advanced processes that make work more structured, enabling Euro and his colleagues to focus better on the tasks they excel in.
"I'll have more responsibilities, but also more opportunities and power to influence my work and the company itself. As the team grows, we can do new and greater things that we didn't have the resources for earlier," says Euro, who has the ability to simultaneously see both the complex big picture and the small details in the NL Acoustics systems.
As for the near future, Euro is excited about the coming journey with upcoming products and the expanding company. What would he like to say to anyone considering joining the crew to help shape the story?
Laughing, Euro replies: "What we do is very valuable – potentially for the entire world. So, welcome aboard!"