The ultrasonic NL Camera detects partial discharges and air leaks in industrial environments and power grids. Now the NL Camera not only includes these features, but with its advanced intelligent analytics software, it also evaluates how critical the detected partial discharges are and advises the user what to do about them—in 24 languages.
The accompanying NL Cloud analytics software previously determined the type of partial discharge, but now with the machine learning-based algorithms, it also assesses the severity of the partial discharge. Furthermore, the software recommends what actions to take to avoid fatal breakdowns and downtime.
"Our clients have been happy with our solution's detection accuracy and partial discharge analysis, but the question that so often followed was 'What should I do next?'. The NL Cloud's new severity assessment answers this question," says NL Acoustics' Sales Manager Anna Nykänen.
Partial Discharge Knowledge Equals More Intelligent Maintenance Decisions
The NL Cloud concludes the severity of a partial discharge through a combination of advanced sound processing, machine learning, sophisticated algorithms, and large amounts of real-world data. Knowing how likely a partial discharge is to cause critical issues combined with the NL Cloud's straightforward action recommendations aid the user in making more informed, intelligent maintenance decisions. These in turn decrease the risk of expensive failures, downtime, and safety hazards.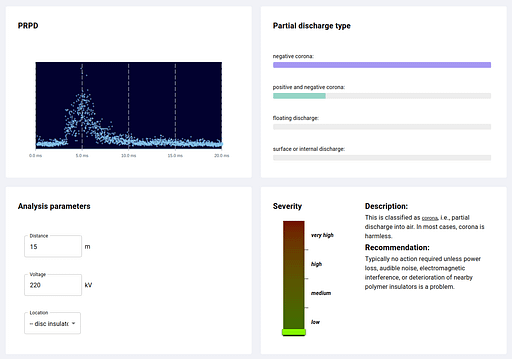 Reliable Air Leak Detection
The NL Camera also detects and locates air leaks and calculates the leak size and cost estimate for them. The NL Cloud software automatically creates an ISO 50001-compatible report with repair instructions to aid you in ensuring the reliability of your operations.
"We are proud to add the latest release to our already strong portfolio of maintenance solutions. With that said, we have a passion to continue introducing new ideas that take maintenance decision-making to the next level," Nykänen concludes.