Obtaining the Achiever classification requires that the company's financial performance is among the best in its industry and in Finland.

The Achiever recognition is based on an analysis that takes into account six aspects of the candidate companies' financial performance: growth, profitability, financial result, liquidity, solidity, and debt serviceability. A company is classified as an Achiever if the analysis of these key indicators puts it in the top tier of both its own industry and the entire country. A detailed review of NL Acoustics' financial performance can be viewed here and the complete Achiever listing is available here (both webpages in Finnish).

As a part of its Achiever series, Kauppalehti, the most prominent financial newspaper in Finland, interviewed NL Acoustics' co-founders Kai Saksela and Jonas Nyberg in Helsinki in September, and the following article was published in the newspaper on October 11th, 2022.
The NL Acoustics Story So Far
NL Acoustics co-founders Kai Saksela and Jonas Nyberg are holding unusual-looking pieces of equipment. These innovative devices are acoustic cameras designed and manufactured by Helsinki-based NL Acoustics, and they are able to detect inaudible sounds emitted by air and gas leaks in industrial compressed air systems and partial discharges occurring in power grids. "The NL Camera's 124 microphones detect sounds coming from different directions. The device displays the located leak, leak size, and cost-estimate instantly and automatically on its built-in screen in a clear, understandable format," CTO Nyberg says. The NL Camera has turned NL Acoustics, founded by Nyberg and Saksela in 2015, into quite a success story. Thus far, the company has sold thousands of cameras, with 90% of the devices exported mainly to Europe and China. In 2021, the company recorded a turnover of 5.6 MEUR and a profit of 1.5 MEUR.
Nine years ago, Saksela and Nyberg met at a mutual friend's housewarming party and started discussing how the market clearly had a need for an easy-to-use acoustic solution that could recognize and find all of the important information in sound and turn it into concrete value. "I asked Jonas if it would be possible to build a compact and easy-to-use acoustic camera", CEO Saksela reminisces. Nyberg became immediately inspired: "I am an engineer, so my response was that anything is possible."
Then Nyberg came across buzzing high voltage power lines on his walking route. "I started wondering if the sounds could provide useful information about the condition of the electrical network and components," he recalls. Fingrid, the largest grid company in Finland, became interested in the innovation and international grid companies followed suit. Soon the device began arousing interest also in the manufacturing industry using compressed air. "One tenth of industrial energy is consumed by compressed air, and up to 20–50 percent of it is wasted. Large factories therefore lose significant sums of money each year. The tightening of energy efficiency standards has also required the companies to document leaks," Saksela describes. Following these developments, the entrepreneurs decided to focus their product on compressed air leaks and electrical network faults. "We took a risk and went all in," Saksela says. Since then, NL Acoustics has doubled its turnover every year and the company's goal is to be the world's leading acoustic camera manufacturer.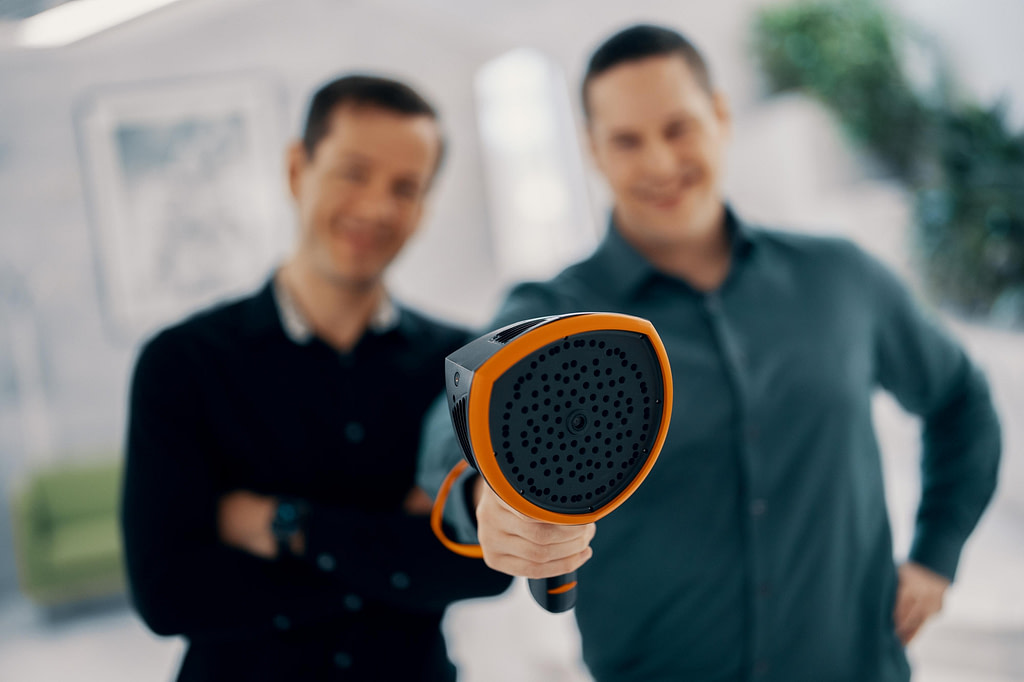 New Majority Owner Brings New Possibilities
In July 2022, Saksela and Nyberg sold the majority interest of NL Acoustics to US-based conglomerate Teledyne Technologies. "When we launched the product, there were no other small acoustic cameras on the market. The competition has since intensified significantly, and in the past year all the smaller players in the industry have formed partnerships with larger ones," says Saksela. According to the duo, the core competence of the company will remain in Finland, but the new owner will bring additional resources to sales, marketing, and product development. The Teledyne Group, which has a turnover of 4.6 billion dollars, includes dozens of companies, such as the world's largest thermal camera manufacturer Flir. "The goal is to develop even more advanced devices in the future. Together we are able to create cool things," Saksela concludes.
Keys to success
1. Listen to your customers
"Income financing has guided our work from the beginning. We quickly went to the customers to find out exactly what they needed."

2. Believe in yourself
"It's important to listen to others' advice but also maintain a critical attitude. We have always acted on what makes the most sense to us."

3. Funding
"In Finland, startup companies are eligible for financial support early on in their product development. Without that support, our growth journey would not have been possible."