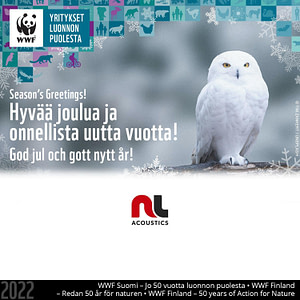 To celebrate the season of giving in the most appropriate fashion, NL Acoustics supports WWF's work on combating climate change with a donation.
Given the severe challenges faced all around the world in 2022, this holiday season is an especially appropriate time to give back and do good beyond conventional gifts and greetings.
Having first enlisted its partner network to help decide the most worthy cause among many deserving charities, NL Acoustics opted to support the World Wildlife Fund for Nature Inc. in their valuable work in conserving the environment, saving endangered species and reducing the size of the human ecological footprint. The company's donation was directed to WWF's fund that is specifically focused on combating climate change and mitigating its effects.
Fighting Climate Change with Both Global and Local Efforts
Combining global outreach with local expertise, WWF works with communities, governments, and organizations around the world to combat climate change and help people and nature prepare for its many impacts. This work includes versatile efforts, such as funding vital climate projects in the Amazon and polar regions, giving nature a chance to fight climate change itself by restoring forests and other habitats worldwide, reducing carbon pollution, and preparing for the already tangible consequences of global warming.
A Most Fitting Cause to Support
One of the main benefits of NL Acoustics' solutions is improved energy efficiency, which makes supporting WWF's climate recovery work all the more fitting. "As our acoustic cameras help significantly reduce energy waste, it seemed only natural to contribute to the fight against climate change also through our Christmas donation," says Jenni Salomaa, Head of Marketing at NL Acoustics. "We thank WWF for all their efforts and wish a very happy holiday season to everyone sharing our appreciation of their inspiring work," she concludes.