According to a Pew Research Center Analysis from 2017-2019, women represent only 25% of computer occupations in the US. In Finland, women hold less than 14% of the positions in the technology industry. NL Acoustics is proud to house not one or two but three bright women who code, constituting nearly half of the company's coding population. In this article, they share their love for logical thinking and tell how they ended up working at NL Acoustics.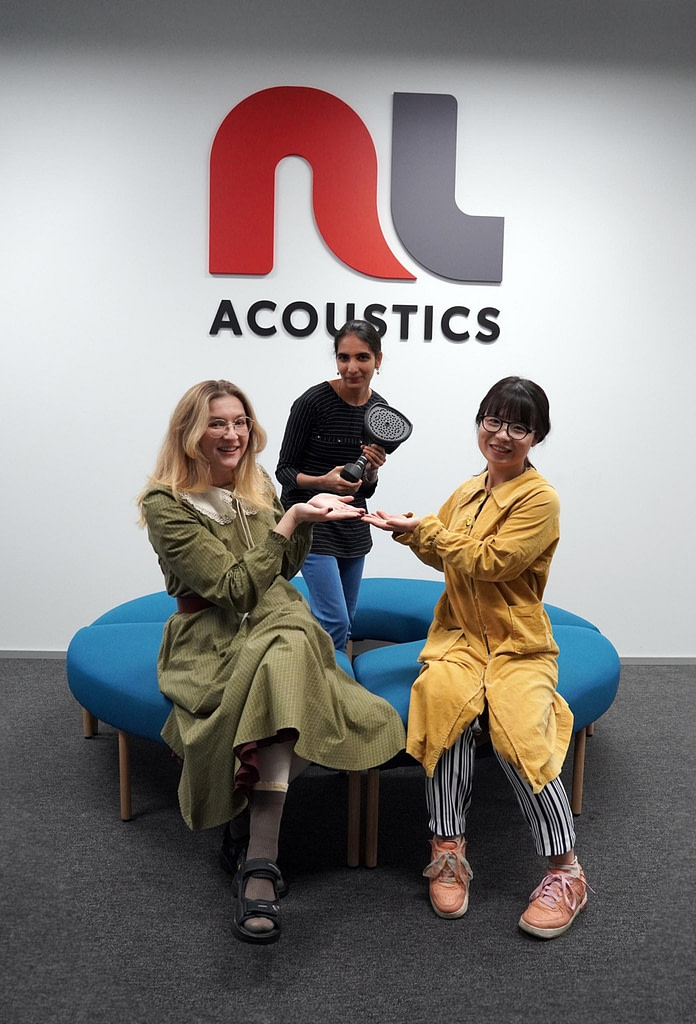 Diversity of Backgrounds Under One Roof
Boshu Zhang, Julia Laricheva, and Jyothi Katlaganti come from different parts of the world, but now they sit at the same meeting table laughing and chatting at NL Acoustics' headquarters in Helsinki, Finland. They are all highly intelligent, beloved colleagues who take the company forward with their coding wizardry. How did they end up in the Nordic country in the first place?
Zhang, an Embedded Software Engineer, is from Xiangtan, China's Hunan Province, but she left her hometown and moved to Nanjing for her bachelor's degree that included both information and electrical engineering.
"I was super bad at memorizing anything, and that prevented me from pursuing a degree in, for example, literature or history. I am better at solving technical or mathematical problems," Zhang describes her choice of studies.
After working for several years in China as a software engineer, Zhang continued her studies in a program called EIT Digital which took her to Finland and enabled her to receive a master's degree both from Finnish Aalto University and the Technical University of Berlin.
Katlaganti is now a Junior FullStack Developer, but her story starts in her hometown of Parthikota, India, from where life and studies took her to Jawaharlal Nehru Technology University Anantapur. She finished her bachelor's studies in computer science before coming to Finland for perhaps the best of reasons: love. She took up the travel of some 6 800 kilometers to follow her husband, who had already been living in Finland for several years.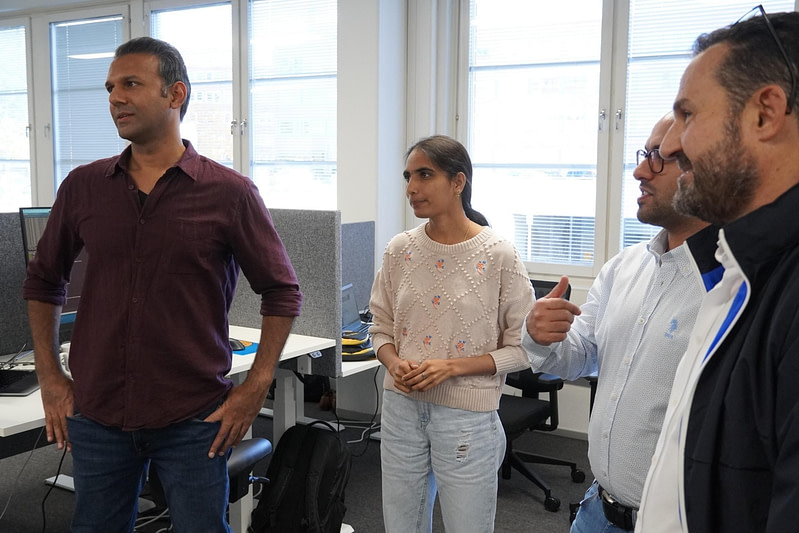 Laricheva, an Embedded Software Engineer, originates from Novosibirsk, Siberia, where she fed her hunger for physics magic, as she calls it, in a specialized science center for physics and math, probably one of the best in Russia. Her path then continued to St. Petersburg where she delved into Informational Systems and Technology at ITMO University. After her studies, she participated in an exchange program in Lahti, Finland.
"I fell in love with Finland and started learning Finnish, so after my exchange program, I just turned back here," Laricheva smiles.
The Perfect Job Includes Problems and Bug Fixing
The ladies are from different cultures and backgrounds yet united in things such as their pull for coding, maths, and problem-solving. For them, working in coding is not about breaking gender stereotypes but a genuine passion for doing what they find meaningful and have a serious talent for.
"With coding, you always have some kind of a problem and you're solving them daily. Isn't it a perfect job?" Laricheva proposes.
"Also nowadays, everyone needs technology, so if I'm in the software field, I'll be learning new things each and every day," Katlaganti continues.
"I like bug fixing," Zhang declares. "And if there's a bug, there's always a fix, since computers are logical. It's not like with humans; sometimes there are no bug fixes for this human being," Zhang makes the trio laugh.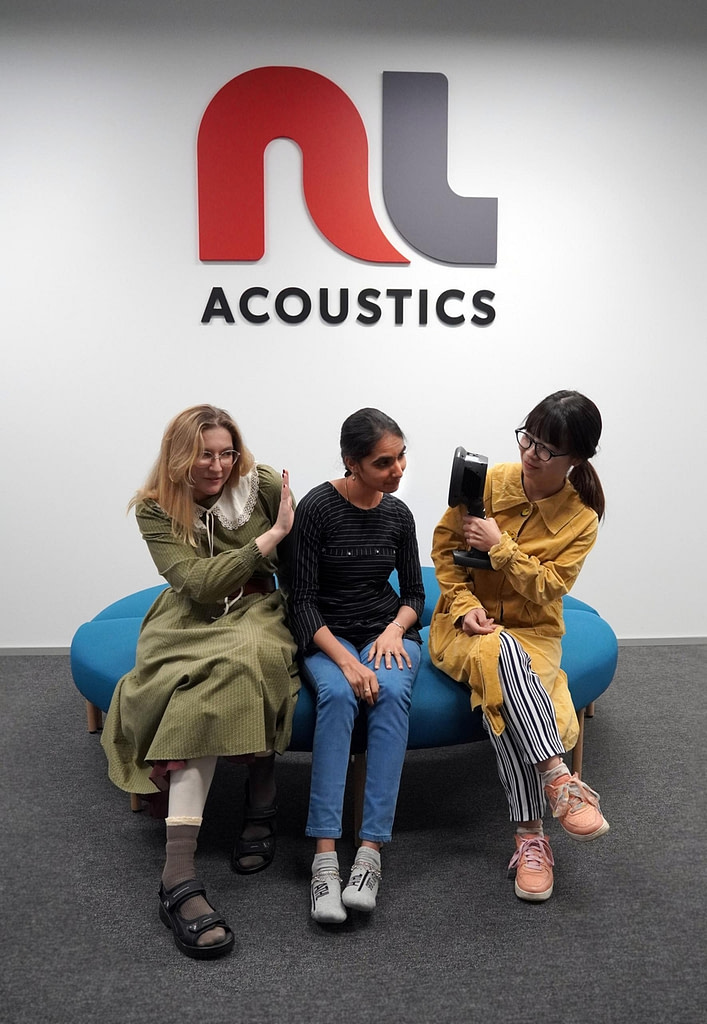 The ladies' stories of applying for NL Acoustics differ as well: Katlaganti and Laricheva found the company on LinkedIn, but where Laricheva was determined she wanted to work for this mid-sized company after being unhappy in a big organization, Katlaganti applied for several companies and positions. After researching NL Acoustics, she found the opportunity interesting and wanted to be a part of the acoustic family. Zhang, who discovered the company on Google, came to the same conclusion and applied to be a part of the in-house development team.
Katlaganti had never been outside India, so she found comfort in the company's diversity and having a supervisor who also comes from South Asia, Fawad Mazhar.
"I didn't know how to work with new people since it was my first time in another country. Fawad told me he's from Pakistan, so I felt that he can understand me", Katlaganti shares.
The Company with the Nicest Colleagues
At NL Acoustics, all three ladies like challenging their sharp minds, learning from their colleagues, and developing alongside the dynamic company.
"We are now developing a new series from zero. When Julia and I joined the company, the product was quite mature and we were adding features based on the existing ones. Now that we are doing unprecedented things, we are exploring new techniques and learning new skills," Zhang tells.
"Also, we're trying to share the knowledge," Laricheva adds. "For example, if a person doesn't know kernel development, they can learn it by doing."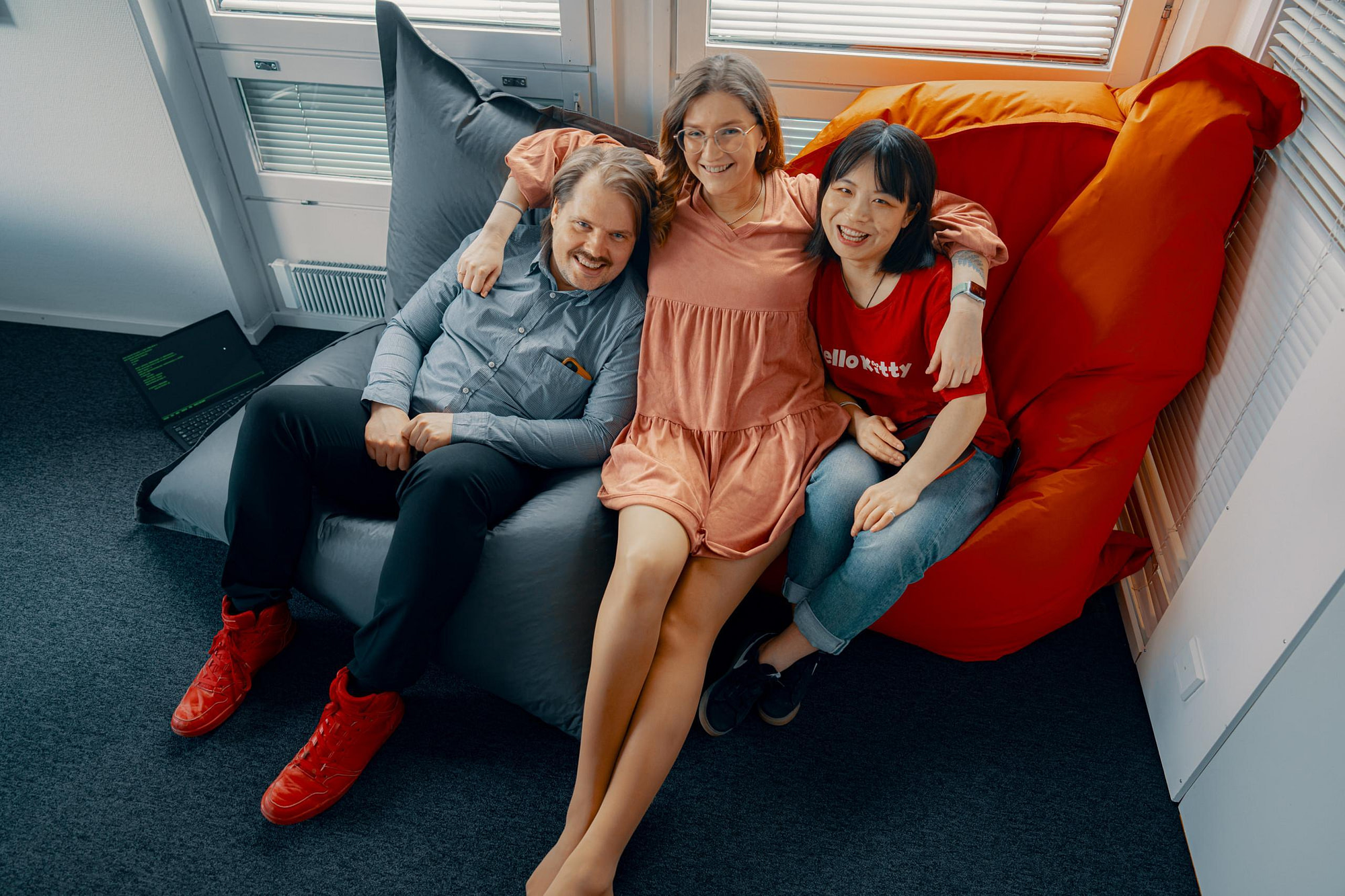 All three ladies also agree that both teamwork and team members are the top things that come from working at NL Acoustics.
"They say that Finnish people don't like talking, they're just bricks. But here, everyone is so friendly; you can have small talk with everybody, whether they're Finnish or not", Laricheva comments.
Katlaganti continues laughing: "My Finnish teacher told me the same thing; if 10 Finns are in an elevator, they're facing to the walls and talking to them. But here people are very different."
"And I haven't seen bricks here," Laricheva observes.
And what arguments do the ladies have for those who consider working at NL Acoustics?
"We have wonderful colleagues you can join here," Katlaganti starts.
"Yes, we are a very friendly and closely bonded team," Laricheva agrees.
"And very helpful," Katlaganti confirms.
"Just bring korvapuusti (cinnamon rolls) with you!" Laricheva concludes.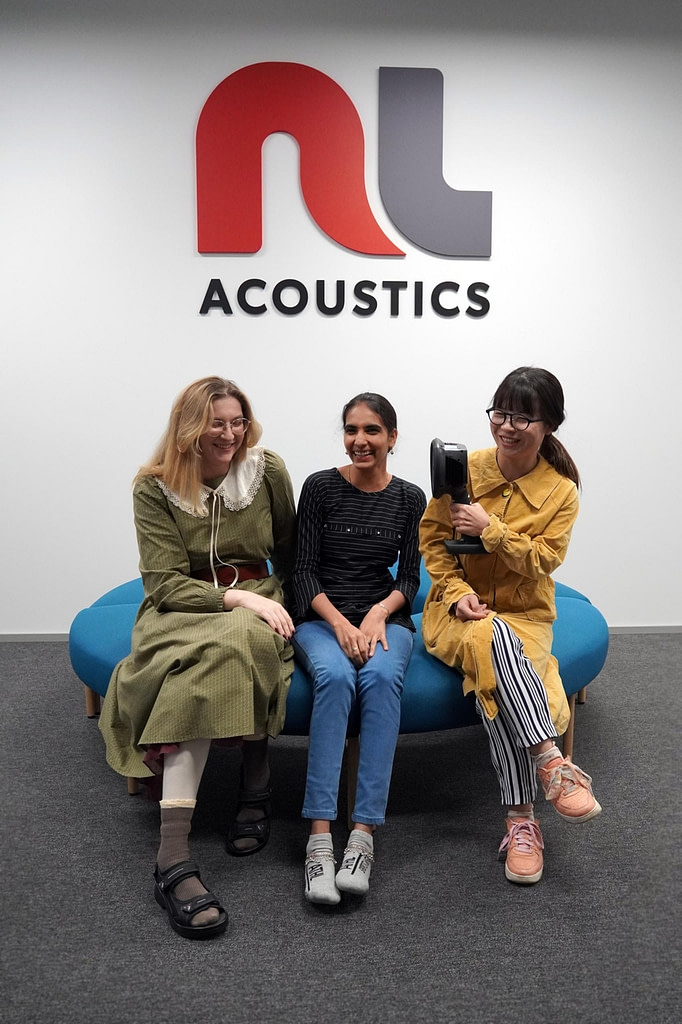 Would you like to know what's the inside joke behind Julia asking for korvapuusti? See our career section and join our team!